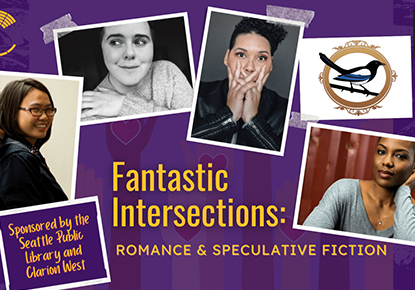 Where

Online

Address

Click here to register on our partner's website. 




Audience

Adults

Language

English

Summary

Clarion West and Seattle Writes presents Beyond Afrofuturism: Power in Publishing: Publishers Roundtable. Registration required.

Description

Beyond Afrofuturism: Black Editors and Publishers in Speculative Fiction

Join us for a series of conversations featuring today's Black publishers and editors of anthologies and magazines, aimed at expanding our understanding of the ways in which editorial roles impact the worlds of speculative fiction. Dates: 4/12, 5/16, 5/17

This series is presented in partnership with the Seattle Public Library and is supported by The Seattle Public Library Foundation.

Power in Publishing: Publishers Roundtable

Featuring: Bill Campbell (Rosarium), Milton Davis (MVmedia), Zelda Knight (AURELIA LEO), and Nicole Givens Kurtz (Mocha Memoirs)

With major publishers stuck in a cycle of selling the same mainstream stories or tightening their belts when it comes to the work of marginalized communities, how are Black publishers shaping opportunities for BIPOC writers to have their voices heard?

About the Panelists:

Bill Campbell (Rosarium)

Bill Campbell is the author of Sunshine Patriots, My Booty Novel, and the anti-racism satire, Koontown Killing Kaper. Along with Edward Austin Hall, he co-edited the groundbreaking anthology, Mothership: Tales from Afrofuturism and Beyond. He also co-edited Stories for Chip: A Tribute to Samuel R. Delany with Nisi Shawl, Future Fiction: New Dimensions in International Science Fiction and Fantasy with Francesco Verso, and APB: Artists against Police Brutality with Jason Rodriguez and John Jennings. His Afrofuturist spaceploitation graphic novel, Baaaad Muthaz (with David Brame and Damian Duffy) was released in 2019. His historical graphic novel with Bizhan Khodabandeh, The Day the Klan Came to Town, will be released by PM Press in 2021. Campbell lives in Washington, DC, where he spends his time with his family and helms Rosarium Publishing.

Milton Davis (MVmedia)

Milton Davis is an award winning Black Speculative fiction writer and owner of MVmedia, LLC, a publishing company specializing in Science Fiction and Fantasy based on African/African Disapora history, culture and traditions. Milton is the author of nineteen novels and short story collections; his most recent the Sword and Soul adventure A Debt To Pay. Milton is also a contributing author to the upcoming Black Panther: Tales of Wakanda, published by Marvel and Titan Books and coauthor of Hadithi and the State of Black Speculative Fiction with Eugen Bacon. He is the editor and co-editor of eight anthologies; The City, Dark Universe and Dark Universe: The Bright Empire with Gene Peterson; Griots: A Sword and Soul Anthology and Griot: Sisters of the Spear, with Charles R. Saunders; The Ki Khanga Anthology, the Steamfunk! Anthology, and the Dieselfunk anthology with Balogun Ojetade. Milton's work had also been featured in Black Power: The Superhero Anthology and Rococoa published by Roaring Lions Productions; Skelos 2: The Journal of Weird Fiction and Dark Fantasy, Steampunk Writers Around the World published by Luna Press; Heroika: Dragoneaters published by First Perseid Press, Bass Reeves Frontier Marshal Volume Two, Slay: Stories of the Vampire Noire, and Black Panther: Tales of Wakanda by Marvel/Titan Books. Milton Davis and Balogun Ojetade won the 2014 Urban Action Showcase Award for Best Script. Milton's story The Swarm was nominated for the 2017 British Science Fiction Association Award for Short Fiction and his story, Carnival, has been nominated for the 2020 British Science Fiction Association Award for Short Fiction.

Zelda Knight (AURELIA LEO)

Zelda Knight is the publisher and editor-in-chief of AURELIA LEO, a small press based in Louisville, Kentucky. She has published over one-hundred authors, artists, and poets from around the world. She is also the co-editor of Dominion: An Anthology of Speculative Fiction from Africa and the African Diaspora (AURELIA LEO, 2020), which has received critical acclaim! Keep in touch on social media @AuthorZKnight. Or, visit www.zeldaknight.com.
 

ADA Accommodations

We can provide accommodations for people with disabilities at Library events. Please contact leap@spl.org at least seven days before the event to request accommodations. Captions are available for all recorded Library programs.

Event Information

For registration information and other questions, Ask Us or 206-386-4636.
. . . . . . . . . . . . . . . . . . . . . . . . . . . . . . . . . . . . . . . . . . . . . . . . . . . . . . . . . . . . . . . . . . . . . . . . . . . . . . . . . . . . . . . . . . . . . . . . . . . . . . . . . . . . . . . . . . . . . . . . . . . . . . . . . . . . . . . .