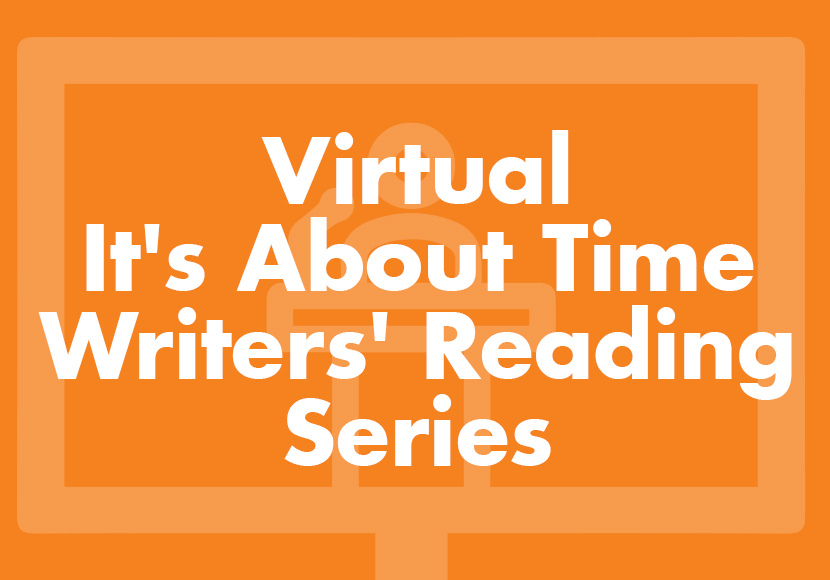 Where

Online

Address

Registration required.
Click here to register.

Audience

Adults

Language

English

Summary

The Ballard Branch welcomes the 395th meeting of the It's About Time Writers' Reading Series, featuring author readings and open mics. Registration required.

Description

This month's online presentation welcomes Jack Straw 2022 Writers Ally Ang, Katharine Strange, Danielle Hayden, and Jory Mickelson.

Ally Ang is a gaysian poet living on occupied Duwamish and Coast Salish lands known as Seattle. Ally's work has appeared in "Nepantla: An Anthology Dedicated to Queer Poets of Color", The Journal, Foglifter, Palette Poetry, and elsewhere, and their work has been nominated for the Pushcart Prize, Best of the Net, and Bettering American Poetry. They are the co-editor of an anthology of Southeast Asian art and writing titled "All the Oils: On Friendship, Sex, and Other Warmths" (Ginger Bug Press 2021) and they are an editor for Game Over Books. Ally received their MFA from the University of Washington and they currently work at Hugo House, a Seattle-based literary arts nonprofit.

Katharine Strange specializes in questioning received wisdom with a wink and a smirk. She writes personal essays, short stories, novels, and now, memoir! Her work has appeared in The Seattle Times, The Stranger, OC87 Diaries, Literary Yard, ScaryMommy, and anthology "The Pandemic Midlife Crisis: Gen X Women on the Brink." She was a 2021 Mainstage Storyteller for The Moth. Formerly she wrote a column for Fundamentally Free, a blog for Exvangelicals and heretics. She lives in south Seattle with her family and is represented by Savannah Brooks of Jennifer DeChiara Literary Agency. As a rule, she never turns down champagne.

Danielle Hayden is a writer from Detroit. Her work has appeared in Seattle magazine, The Dillydoun Review, The Cleveland Review of Books, Ampersand, SELF, and elsewhere. Outside of writing, she finds additional ways to fill her life with words: as a polyglot with an insatiable appetite for learning languages, as an amateur calligrapher, and recently as creator of the website 3pistolary.com, which encourages people to send letters. Some of her volunteer work includes assisting language preservation-based nonprofits such as Our Golden Hour and the Living Tongues Institute for Endangered Languages. Danielle also volunteers as a court-appointed child advocate and dabbles in photography.

Jory Mickelson is a queer, non-binary writer who was raised by two visual artists. They received their BA in English from Western Washington University and their MFA in poetry from the University of Idaho. Their work can be found in Court Green, Painted Bride Quarterly, Jubilat, Sixth Finch, Ninth Letter, Diode, and The Rumpus. They are currently working on poems that explore the intersection of visual art, queerness, erasure, gender, and history. Their first book, "Wilderness//Kingdom" (2019) was the inaugural winner of Floating Bridge Press' Evergreen Award Tour and the 2020 High Plains Book Award winner in poetry. They received fellowships from the Port Townsend Writers Conference, Lambda Literary Foundation, Winter Tangerine, and the Helene Wurlitzer Foundation of New Mexico.

About the event

Ability to use Zoom on your own computer or phone is required for this program.
This reading will be recorded for podcast and will also be available for future viewing on the It's About Time Writers' Reading Series YouTube channel.
 

ADA Accommodations

We can provide accommodations for people with disabilities at Library events. Please contact leap@spl.org at least seven days before the event to request accommodations. Captions are available for all recorded Library programs.

Podcast

This event will be recorded for podcast.

Event Information

For registration information and other questions, Ask Us or call 206-386-4636.
. . . . . . . . . . . . . . . . . . . . . . . . . . . . . . . . . . . . . . . . . . . . . . . . . . . . . . . . . . . . . . . . . . . . . . . . . . . . . . . . . . . . . . . . . . . . . . . . . . . . . . . . . . . . . . . . . . . . . . . . . . . . . . . . . . . . . . . .