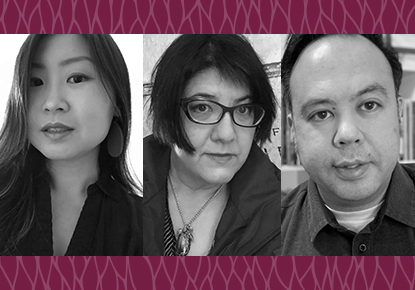 Register Online
Where

Online

Address

Registration required.
Click here to register.

Audience

Adults

Language

English

Summary

Join us for a reading with Neil Aitken, Betsy Aoki, and Margaret Rhee on speculative poetry, robotics, and more!
 

Description

Using Love, Robot (2017), Babbage's Dreams (2017) and new arrival Breakpoint (2022), three Asian poets (two from the videogame industry), Neil Aitken, Betsy Aoki, and Margaret Rhee, share insights about crafting award-winning poems from programming languages, video games, AI and robotics. They'll also explore the tensions of humanity's history with computers and its love of technology, as well as how race, gender, and sexual identity inform these relationships.

This panel is powered by three unique, intersecting Asian voices - a poet-scholar whose latest monograph explores race and robotics, a former games programmer who quit to become an award-winning poet and editor, and a female Asian tech lead who still works in games (writing award-winning poetry on the side). Attendees will gain craft insights for integrating technology into their creative works, and see how this approach opens up new avenues to write about difficult societal topics.

Author bios:
Neil Aitken is the author of two books of poetry, Babbage's Dream (Sundress 2017) and The Lost Country of Sight (Anhinga 2008), which won the Philip Levine Prize. His poetry chapbook, Leviathan (Hyacinth Girl Press 2016) was awarded an Elgin Prize for Sci Fi Poetry. He is the founding editor of Boxcar Poetry Review (2006-2021) and Boxcar Chapbooks (2022-), creator of Have Book Will Travel (a web resource for authors and reading series), and host of The Lit Fantastic, a podcast about authors and their obsessions. He also co-directs De-Canon: A Visibility Project, a web resource examining and interrogating the intersections of race, literature, canon-making, education, and publishing. New YouTube projects include: Fantastic Descriptions (a deep dive into narrative description for roleplaying games) and The Hermit Poetry Series (a thrice-weekly reading of contemporary poetry). You can also find him streaming The Long Dark on Twitch as babbaginator.

A past Kundiman Poetry Fellow, Neil has coached other writers through AWP's Writer to Writer program, the Saskatchewan Writers' Guild's Mentorship program, and The Writers' Union of Canada's Mentorship Microgrant program. He served as the Virtual Writer-in-Residence for the Saskatchewan Writers Guild during Fall 2020 and worked remotely with rural writers throughout the province. Neil currently lives in Regina where he works as a creative writing coach and manuscript consultant for writers all over the US, Canada, and beyond. He was recently appointed the Regina Public Library's Writer-in-Residence for 2021-2022.
http://neil-aitken.com

Elizabeth (Betsy) Aoki is a poet, short story writer and game producer. Her work has appeared / is forthcoming in Strange Horizons, Uncanny Magazine, Asimov's Magazine of Science Fiction, and anthologized in Climbing Lightly Through Forests (Ursula K. Le Guin tribute poetry anthology). In 2021 she won the Auburn Witness Poetry Prize Honoring Jake Adam York, as selected by Jericho Brown.
Her first poetry collection, Breakpoint, is a 2019 National Poetry Series Finalist and received the Patricia Bibby First Book Award. Breakpoint was published by Tebot Bach in 2022.
https://betsyaoki.com

Margaret Rhee is a poet, new media artist, and scholar. She is the author of Love, Robot (The Operating System, 2017) named a 2017 Best Book of Poetry by Entropy Magazine, awarded an Elgin Award by the Science Fiction Poetry Association, and the 2019 Book Prize in Poetry by the Asian American Studies Association. She is also the author of poetry chapbooks Yellow (Tinfish Press, 2011), and Radio Heart; or, How Robots Fall Out of Love (Finishing Line Press, 2015), awarded a 2017 Elgin Award, Science Fiction Poetry Association and named a 2015 Split This Rock Poetry Book We Love.

Her new media art project The Kimchi Poetry Machine was selected for the Electronic Literature Collection Volume 3. Literary fellowships include Kundiman, Hedgebrook, the Kathy Acker Fellowship, and the Sierra Nevada College MFA 2019 Writer-in-Residence. Currently, she is completing her first monograph, How We Became Human: Race, Robots, and the Asian American Body, and a collection of lyrical essays on electronic literature.

She received her Ph.D. from UC Berkeley in ethnic and new media studies and her BA in English/Creative Writing from the University of Southern California. Currently, she is a College Fellow in Digital Practice in the English Department at Harvard University and an Assistant Professor at SUNY Buffalo in the Department of Media Study.
https://mrheeloy.com

This event is supported by The Seattle Public Library Foundation, author series sponsors the Gary and Connie Kunis Foundation, and Seattle City of Literature. Thanks to media sponsor The Seattle Times. The event is presented in partnership with Open Books: A Poem Emporium. Books will be available for purchase at the event.
 

ADA Accommodations

We can provide accommodations for people with disabilities at Library events. Please contact leap@spl.org at least seven days before the event to request accommodations. Captions are available for all recorded Library programs.

Event Information

For registration information and other questions, Ask Us or call 206-386-4636.
. . . . . . . . . . . . . . . . . . . . . . . . . . . . . . . . . . . . . . . . . . . . . . . . . . . . . . . . . . . . . . . . . . . . . . . . . . . . . . . . . . . . . . . . . . . . . . . . . . . . . . . . . . . . . . . . . . . . . . . . . . . . . . . . . . . . . . . .