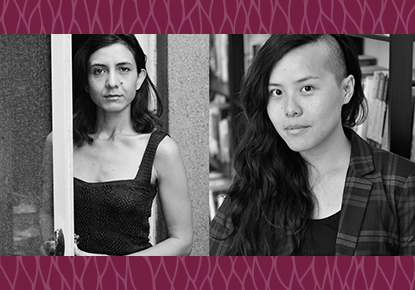 Where

Central Library

Address

This event is being presented in person at Central Library, with the option to view the livestream from home.

Registration required.

Audience

Adults

Language

English

Summary

Join us to hear Moshfegh discuss her new novel, in which a motherless shepherd boy finds himself the unlikely pivot of a power struggle that puts all manner of faith to a savage test.

Description

This event is being presented in person at Central Library, with the option to view the livestream from home. It is presented in partnership with Elliott Bay Book Company. Books will be available for sale at Central Library on the evening of the event, and signed copies may be available from Elliott Bay Book Company after the program.

Ottessa Moshfegh will appear in conversation with writer Kim Fu.

This event is supported by The Seattle Public Library Foundation and the Gary and Connie Kunis Foundation. Thanks to media sponsor The Seattle Times. This event will be recorded, captioned and then posted on the Library's YouTube channel after the event.

About the book:
Little Marek, the abused and delusional son of the village shepherd, never knew his mother; his father told him she died in childbirth. One of life's few consolations for Marek is his enduring bond with the blind village midwife, Ina, who suckled him when he was a baby, as she did so many of the village's children. Ina's gifts extend beyond childcare: she possesses a unique ability to communicate with the natural world. Her gift often brings her the transmission of sacred knowledge on levels far beyond those available to other villagers, however religious they might be. For some people, Ina's home in the woods outside of the village is a place to fear and to avoid, a godless place.

Among their number is Father Barnabas, the town priest and lackey for the depraved lord and governor, Villiam, whose hilltop manor contains a secret embarrassment of riches. The people's desperate need to believe that there are powers that be who have their best interests at heart is put to a cruel test by Villiam and the priest, especially in this year of record drought and famine. But when fate brings Marek into violent proximity to the lord's family, new and occult forces upset the old order. By year's end, the veil between blindness and sight, life and death, the natural world and the spirit world, will prove to be very thin indeed.

About the speakers:
Ottessa Moshfegh is a fiction writer from New England. "Eileen," her first novel, was shortlisted for the National Book Critics Circle Award and the Man Booker Prize, and won the PEN/Hemingway Award for debut fiction. "My Year of Rest and Relaxation" and "Death in Her Hands," her second and third novels, were New York Times bestsellers. She is also the author of the short story collection "Homesick for Another World" and a novella, "McGlue." She lives in Southern California.

Kim Fu is the author of two novels, a collection of poetry, and most recently, the story collection Lesser Known Monsters of the 21st Century, which received starred reviews from Publishers Weekly, Kirkus, Foreword, Booklist, Shelf Awareness, and Quill & Quire. Fu's first novel, For Today I Am a Boy, won the Edmund White Award for Debut Fiction and was a finalist for the PEN/Hemingway Award, as well as a New York Times Book Review Editors' Choice. Her second novel, The Lost Girls of Camp Forevermore, was a finalist for the Washington State Book Awards. Fu's writing has appeared in Granta, the Atlantic, the New York Times, Hazlitt, and the TLS. Fu lives in Seattle.
 

View in Catalog

Lapvona by Ottessa Moshfegh

ADA Accommodations

We can provide accommodations for people with disabilities at Library events. Please contact leap@spl.org at least seven days before the event to request accommodations. Captions are available for all recorded Library programs.

Event Information

For registration information and other questions, Ask Us or call 206-386-4636.
. . . . . . . . . . . . . . . . . . . . . . . . . . . . . . . . . . . . . . . . . . . . . . . . . . . . . . . . . . . . . . . . . . . . . . . . . . . . . . . . . . . . . . . . . . . . . . . . . . . . . . . . . . . . . . . . . . . . . . . . . . . . . . . . . . . . . . . .