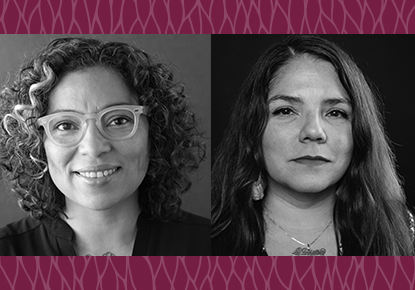 Where

Central Library

Address

This event is being presented in person at Central Library, with the option to view the livestream from home.

Registration required.

Audience

Adults

Language

English

Summary

Join us for a reading to celebrate the release of Claudia Castro Luna's new poetry collection, an "ode to the Salvadoran immigrant experience in the United States."

Description

This event is being presented in person at Central Library, with the option to view the livestream from home. It is presented in partnership with Elliott Bay Book Company and Hedgebrook. Books will be available for sale at Central Library on the evening of the event, and signed copies may be available from Elliott Bay Book Company after the program.

This event is supported by The Seattle Public Library Foundation and the Gary and Connie Kunis Foundation. Thanks to media sponsor The Seattle Times. 

This event will be recorded, captioned and then posted on the Library's YouTube channel after the event.

About the Book:

In Cipota under the Moon, Claudia Castro Luna scores a series of poems as an ode to the Salvadoran immigrant experience in the United States. The poems are wrought with memories of the 1980s civil war and rich with observations from recent returns to her native country. Castro Luna draws a parallel between the ruthlessness of the war and the violence endured by communities of color in US cities; she shows how children are often the silent, unseen victims of state-sanctioned and urban violence. In lush prose poems, musical tankas, and free verse, Castro Luna affirms that the desire for light and life outweighs the darkness of poverty, violence, and war. Cipota under the Moon is a testament to the men, women, and children who bet on life at all costs and now make their home in another language, in another place, which they, by their presence, change every day.

About the Authors:

Claudia Castro Luna has been an Academy of American Poets Poet Laureate fellow, the Washington State Poet Laureate, and Seattle's inaugural Civic Poet. She is the author of One River, A Thousand Voices; the Pushcart nominated Killing Marías, shortlisted for the Washington State 2018 Book Award in poetry; and the chapbook This City. Her most recent nonfiction can be found in the anthology There's a Revolution Outside, My Love: Letters from a Crisis. Born in El Salvador, she came to the United States in 1981. Living in English and Spanish, Claudia writes and teaches in Seattle on unceded Duwamish lands where she gardens and keeps chickens with her husband and their three children.

Leticia Hernández-Linares is a bilingual, interdisciplinary, award winning, writer, artist, and racial justice educator.  The first-generation U.S. born daughter of Salvadoran immigrants, she is the author of Mucha Muchacha, Too Much Girl & Alejandria Fights Back!  ¡La lucha de Alejandria!  Widely published, she is the co-editor of The Wandering Song: Central American Writing in the United States and her work appears in Maestrapeace, San Francisco's Monumental Feminist Mural and Other Musics: New Latina Poetry.  She has performed her poemsongs, delivered keynotes, and presented on panels throughout the United States and in El Salvador.  A five-time San Francisco Arts Commission grantee, she has lived, created, and protested in the Mission District of San Francisco for over two decades. Currently she is an Artist in Residence at Yerba Buena Center for the Arts and she teaches in the College of Ethnic Studies at San Francisco State.
 

ADA Accommodations

We can provide accommodations for people with disabilities at Library events. Please contact leap@spl.org at least seven days before the event to request accommodations. Captions are available for all recorded Library programs.

Event Information

For registration information and other questions, Ask Us or call 206-386-4636.
. . . . . . . . . . . . . . . . . . . . . . . . . . . . . . . . . . . . . . . . . . . . . . . . . . . . . . . . . . . . . . . . . . . . . . . . . . . . . . . . . . . . . . . . . . . . . . . . . . . . . . . . . . . . . . . . . . . . . . . . . . . . . . . . . . . . . . . .