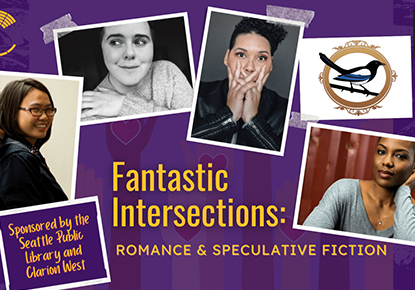 Where

Online

Address

Registration required
Click here to register.

Audience

Adults

Language

English

Summary

Join us for an online discussion moderated by Rashida J. Smith with S. A. (Austin) Chant, KJ Charles, Zen Cho, L. Penelope, and C. L. Polk.

Description

From the sublime and magical to the stirring and steamy, storylines centering BIPOC and LGBTQIA+ characters are flourishing in the romance and speculative genres. We'll tackle the nuance of building romance into the plot vs. romance as the plot, the role of the happily-ever-after (HEA) or happy-for-now (HFN) in representation, and the future of the fantastic in romance.

About the authors
Rashida J. Smith spends her days coordinating online students and instructors for Clarion West. By night (pre-dawn, actually), she writes fantasy and paranormal romance as Jasmine Silvera. A former editor of the Hugo-nominated semiprozine Giganotosaurus, and NaNoWriMo addict, Smith attended Clarion West's six-week workshop in 2005. She is passionate about helping other writers achieve their goals, spending time with family and friends, and keeping her year-old mini-Bernedoodle, Obi Hund Kenobi, from devouring yet another pair of scissors.

S. A. (Austin) Chant is a novelist, prize-winning pie baker, and ardent tabletop gaming enthusiast. They are the author of three novels: Peter Darling, Coffee Boy, and Caroline's Heart. They live in Seattle with a frightening amount of books and a cat who was recently described as a 'gooey cryptid'.

After twenty years in UK publishing including a stint at Mills & Boon, KJ Charles is now a full-time writer. She lives in London with her husband, two kids, an out-of-control garden and an increasingly murderous cat. KJ writes mostly historical romance, often with some fantasy or horror in there. Her paranormal romance Spectred Isle is a 2018 RITA® nominee.

Zen Cho is the author of the Sorcerer to the Crown novels, the novella "The Order of the Pure Moon Reflected in Water" and a short story collection, "Spirits Abroad." Her newest novel is "Black Water Sister," a contemporary fantasy set in Malaysia. Cho is a Hugo, Crawford and British Fantasy Award winner, and a finalist for the Lambda, Locus and Astounding Awards. She was born and raised in Malaysia, resides in the UK, and lives in a notional space between the two.

Leslye Penelope has been writing since she could hold a pen and loves getting lost in the worlds in her head. She is an award-winning author of fantasy and paranormal romance. She was born in the Bronx just after the birth of hip hop, but left before she could acquire an accent. Equally left and right-brained, she studied film at Howard University and minored in computer science. This led to a graduate degree in multimedia and a career in website development. She's also an award-winning independent filmmaker, has co-founded a literary magazine, and sometimes dreams in HTML. Penelope lives in Maryland with her husband and their furry dependents.

C. L. Polk (they/them) is the author of the World Fantasy Award winning novel "Witchmark," the first novel of the Kingston Cycle. Their newest novel, "The Midnight Bargain," was a finalist in the CBC Canada Reads Competition, and was nominated for the Nebula, FIYAH Ignyte, and World Fantasy Awards. After leaving high school early, they have worked as a film extra, sold vegetables on the street, and identified exotic insect species for a vast collection of lepidoptera before settling down to write fantasy novels. 

Mx. Polk lives near the Bow River in the traditional territories of the Blackfoot Confederacy (Siksika, Kainai, Piikani), the Tsuut'ina, the Îyâxe Nakoda Nations, and the Métis Nation (Region 3). They keep all their stuff in a tiny apartment with too many books and a yarn stash that could last a decade. They ride a green bicycle with a basket on the front. They drink good coffee because life is too short. 

About the event
This event is presented in partnership with Clarion West Writers Workshop, a nonprofit literary organization that runs an acclaimed six-week residential workshop every summer, online classes and workshops, one-day and weekend workshops, a reading series every summer, and other events throughout the year.

This event is supported by The Seattle Public Library Foundation. Thanks to media sponsor The Seattle Times. This program will be recorded, captioned and posted on SPL's YouTube channel after the event.
 

ADA Accommodations

We can provide accommodations for people with disabilities at Library events. Please contact leap@spl.org at least seven days before the event to request accommodations. Captions are available for all recorded Library programs.

Event Information

For registration information and other questions, Ask Us or 206-386-4636.
. . . . . . . . . . . . . . . . . . . . . . . . . . . . . . . . . . . . . . . . . . . . . . . . . . . . . . . . . . . . . . . . . . . . . . . . . . . . . . . . . . . . . . . . . . . . . . . . . . . . . . . . . . . . . . . . . . . . . . . . . . . . . . . . . . . . . . . .