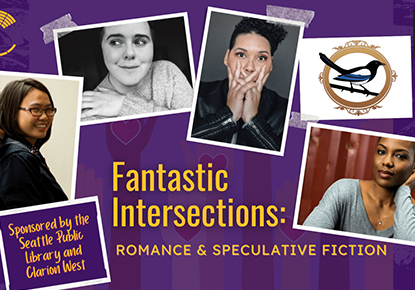 Where

Online

Address

Click here to register.

Audience

Adults

Language

English

Summary

Join us for a conversation about how the misrepresentation of disability in books, movies, and TV harms both the disabled community and everyone else. Registration required.

Description

The event is presented in partnership with Elliott Bay Book Company. This event is supported by The Seattle Public Library Foundation and the Gary and Connie Kunis Foundation. Thanks to media sponsor The Seattle Times. This event will be recorded, captioned and then posted on SPL's YouTube channel after the event. There will be CART transcription and ASL interpretation for this event.


About the book
As a Deafblind woman with partial vision in one eye and bilateral hearing aids, Elsa Sjunneson lives at the crossroads of blindness and sight, hearing and deafness—much to the confusion of the world around her. While she cannot see well enough to operate without a guide dog or cane, she can see enough to know when someone is reacting to the visible signs of her blindness and can hear when they're whispering behind her back. And she certainly knows how wrong our one-size-fits-all definitions of disability can be.

As a media studies professor, she's also seen the full range of blind and deaf portrayals on film, and here she deconstructs their impact, following common tropes through horror, romance, and everything in between. Part memoir, part cultural criticism, part history of the Deafblind experience, Being Seen explores how our cultural concept of disability is more myth than fact, and the damage it does to us all.

About the Speakers
Sjunneson, seven-time Hugo Award finalist, is a Deafblind speculative fiction writer living in Seattle, Washington. She has been published in CNN Opinion, The Boston Globe, Metro UK, and Tor. Her work has been praised as "eloquence and activism" in lockstep and can be found all over the internet. Sjunneson writes and edits speculative fiction and nonfiction. She has been a finalist for the Best Fan Writer and Best Semiprozine Hugo Awards, a winner of the D. Franklin Defying Doomsday Award, and a finalist for the Best Game Writing Nebula Award. As an activist for disability rights, she has worked with New Jersey 11th for Change and the New York Disability Pride Parade. And as an educator and public speaker she has presented work at the University of Chicago and The Henry Art Gallery, and taught workshops with Clarion West, Writing the Other, and various Science Fiction conventions.

Annalee Newitz writes science fiction and nonfiction. They are the author of the book Four Lost Cities: A Secret History of the Urban Age, and the novels The Future of Another Timeline, and Autonomous, which won the Lambda Literary Award. As a science journalist, they are a writer for the New York Times and elsewhere, and have a monthly column in New Scientist. They have published in The Washington Post, Slate, Popular Science, Ars Technica, The New Yorker, and The Atlantic, among others. They are also the co-host of the Hugo Award-winning podcast Our Opinions Are Correct. Previously, they were the founder of io9, and served as the editor-in-chief of Gizmodo.

View in Catalog

Being Seen by Elsa Sjunneson

ADA Accommodations

We can provide accommodations for people with disabilities at Library events. Please contact leap@spl.org at least seven days before the event to request accommodations. Captions are available for all recorded Library programs.

Event Information

For registration information and other questions, Ask Us or 206-386-4636.
. . . . . . . . . . . . . . . . . . . . . . . . . . . . . . . . . . . . . . . . . . . . . . . . . . . . . . . . . . . . . . . . . . . . . . . . . . . . . . . . . . . . . . . . . . . . . . . . . . . . . . . . . . . . . . . . . . . . . . . . . . . . . . . . . . . . . . . .