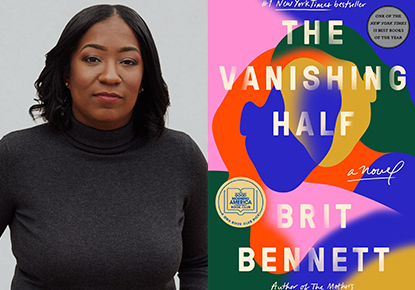 Register Online
Where

Online

Address

Patrons can register here. Registration is required.

Audience

Adults

Language

English

Summary

Seattle Reads author Brit Bennett will talk with Jazmyn Scott about the 2021 selection, The Vanishing Half. A limited number of "seats" are available through the digital platform.

Description

Registration is required.


Seattle Reads The Vanishing Half is made possible by The Seattle Public Library Foundation and The Wallace Foundation, with additional support from sponsors The Seattle Times and Vintage Books. This event will be recorded, captioned and then posted on SPL's YouTube channel for two weeks after the event.


Register for the event here.


About the Book:

From The New York Times-bestselling author of The Mothers, a stunning new novel about twin sisters, inseparable as children, who ultimately choose to live in two very different worlds, one black and one white.

The Vignes twin sisters will always be identical. But after growing up together in a small, southern black community and running away at age sixteen, it's not just the shape of their daily lives that is different as adults, it's everything: their families, their communities, their racial identities. Many years later, one sister lives with her black daughter in the same southern town she once tried to escape. The other secretly passes for white, and her white husband knows nothing of her past. Still, even separated by so many miles and just as many lies, the fates of the twins remain intertwined. What will happen to the next generation, when their own daughters' storylines intersect?

Weaving together multiple strands and generations of this family, from the Deep South to California, from the 1950s to the 1990s, Brit Bennett produces a story that is at once a riveting, emotional family story and a brilliant exploration of the American history of passing. Looking well beyond issues of race, The Vanishing Half considers the lasting influence of the past as it shapes a person's decisions, desires, and expectations, and explores some of the multiple reasons and realms in which people sometimes feel pulled to live as something other than their origins.

As with her New York Times-bestselling debut The Mothers, Brit Bennett offers an engrossing page-turner about family and relationships that is immersive and provocative, compassionate and wise.

About Brit Bennett: Born and raised in Southern California, Brit Bennett graduated from Stanford University and earned her MFA in fiction at the University of Michigan, where she won a Hopwood Award in Graduate Short Fiction as well as the 2014 Hurston/Wright Award for College Writers. She is a National Book Foundation "5 under 35" honoree, and her essays are featured in The New Yorker, The New York Times Magazine, The Paris Review, and Jezebel.

About Jazmyn Scott: Jazmyn Scott is the current and first Program Manager of L ANGSTON; Seattle's hub for Black arts and culture. In 2009 Jazmyn founded The Town Entertainment, a company that presented, produced & promoted live music and unique events in Seattle, as well as the marketing & development of up and coming artists; primarily in the R&B/Soul and Hip-Hop genres.

In 2012, Jazmyn co-founded 50 Next: Seattle Hip-Hop Worldwide, a digital "time capsule" highlighting Seattle and Northwest Hip-Hop, and later partnered with the Black Heritage

Society of WA to plan the Black History Month Celebration at the Museum of History & Industry in 2014. The success of that event led to the opportunity to curate a community exhibit on Seattle Hip-Hop. The Legacy of Seattle Hip-Hop exhibit had a highly successful 8-month run at MOHAI and won the 2016 American Association for State & Local History (AASLH) Leadership in History award. Recently, Jazmyn curated and co-produced 2(06) The Break, a seven episode series that took a uniquely local spin on the recently popularized DJ live streaming sessions.

About Seattle Reads

Seattle Reads is a city-wide book group, where people are encouraged to read and discuss the same book. It's designed to deepen engagement in literature through reading and discussion. Everyone is invited to participate by reading the featured book, joining in a book discussion or attending programs with the featured writer.

View in Catalog

The Vanishing Half by Brit Bennett

ADA Accommodations

We can provide accommodations for people with disabilities at Library events. Please contact leap@spl.org at least seven days before the event to request accommodations. Captions are available for all recorded Library programs.

Event Information

For registration information and other questions, Ask Us or 206-386-4636.
. . . . . . . . . . . . . . . . . . . . . . . . . . . . . . . . . . . . . . . . . . . . . . . . . . . . . . . . . . . . . . . . . . . . . . . . . . . . . . . . . . . . . . . . . . . . . . . . . . . . . . . . . . . . . . . . . . . . . . . . . . . . . . . . . . . . . . . .