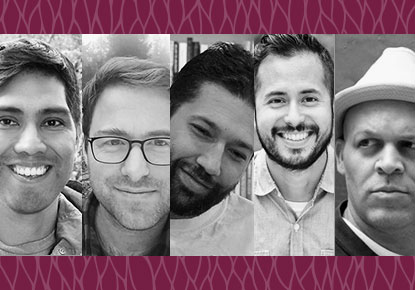 Where

Online

Address

Click here to register.

Audience

Adults

Language

English

Summary

Join us for the fourth in a series of events, curated by writer D.A. Navoti, that examines the highs and lows of growing up.

Description

In this new five-part series, writer D.A. Navoti welcomes readers of all ages to consider the pains of growing up. Tonight's program focuses on Parenthood: The Father's Day Edition. Readers include Ross McMeekin, Alex Gallo-Brown, Juan Carlos Reyes, and Aaron Counts.

The event is presented in partnership with Open Books: A Poem Emporium. This event is supported by The Seattle Public Library Foundation. Thanks to media sponsor The Seattle Times. There will be closed captioning available at this program. This program will be recorded and posted on SPL's YouTube page after the event.

ABOUT THE SPEAKERS:

D.A. Navoti is a member of the Gila River Indian Community and a nonfiction and poetic prose writer. His work has appeared in Homology Lit,  Spartan,  Indian Country Today,  Cloudthroat, and elsewhere. He produces the literary series We the Indigenous and co-created Fight For Our Lives, a reading series supporting communities targeted by divisive politics. He is a 2020 Radical Imagination grant recipient from the NDN Collective and was a 2020 CityArtist from the City of Seattle Office of Arts & Culture. Navoti lives in occupied Duwamish territory (Seattle, WA). www.danavoti.com

SPEAKERS

Readers include Ross McMeekin, Alex Gallo-Brown, Juan Carlos Reyes, and Aaron Counts.

Ross McMeekin's debut novel, The Hummingbirds, was published in 2018 by Skyhorse. His short fiction has appeared recently or is forthcoming in publications such as Virginia Quarterly Review, Lost Balloon, Shenandoah, Redivider, Tin House's Open Bar, and Maudlin House. His nonfiction has appeared in Numero Cinq and The Rumpus. He's received fellowships from Hugo House and the Jack Straw Cultural Center in Seattle. He edits the literary journal Spartan and holds an MFA in fiction from Vermont College of Fine Arts.

Alex Gallo-Brown is a poet and labor organizer in Seattle. He is the author of Variations of Labor (Chin Music Press, 2019), a collection of poems and stories.

Juan Carlos Reyes has published the novella A Summer's Lynching (Quarterly West) and the fiction chapbook Elements of a Bystander (Arcadia Press). His stories, poems and essays have appeared in Florida Review, Waccamaw Journal, and Hawai'i Review, among others. He has been the recipient of the Gar LaSalle Artist Trust Storytller Award, a PEN USA Emerging Voices Fellowship, and a Jack Straw Writers Fellowship. He received his MFA from The University of Alabama and has taught poetry and fiction with the Alabama Prison Arts + Education Project. He is the current Board President of Seattle City of Literature and serves as an Assistant Professor of creative writing at Seattle University. He also serves as the chief editor of Big Fiction magazine (bigfictionmagazine.com).

Poet and fiction writer Aaron Counts is the co-executive director and education programs manager of Creative Justice, an arts-based alternative to incarceration for youth in King County. His is the author of the poetry collection Strange-tongued Names and co-author of the empowerment curriculum, Reclaiming Black Manhood. His poetry and prose have appeared in print and online, including Lit Hub, Specter Magazine, Bestiary, Aldebaran Review, Rufous City Review, and the audio literary series The Furnace and In the Distance. His first publication, however, was on his mother's old Kenmore refrigerator on 7th Street in Yakima, Washington. He earned his MFA from the University of British Columbia.

ADA Accommodations

We can provide accommodations for people with disabilities at Library events. Please contact leap@spl.org at least seven days before the event to request accommodations. Captions are available for all recorded Library programs.

Event Information

For registration information and other questions, Ask Us or 206-386-4636.
. . . . . . . . . . . . . . . . . . . . . . . . . . . . . . . . . . . . . . . . . . . . . . . . . . . . . . . . . . . . . . . . . . . . . . . . . . . . . . . . . . . . . . . . . . . . . . . . . . . . . . . . . . . . . . . . . . . . . . . . . . . . . . . . . . . . . . . .