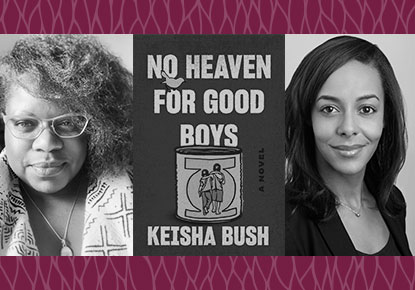 Where

Online

Address

Click here to register via EventBrite. 

Audience

Adults

Language

English

Summary

Join us for a conversation about this modern-day Senegalese Oliver Twist, which explores the power of love, and the strength that can emerge when we have no other choice but to survive. Registration required.

Description

The event is presented in partnership with Elliott Bay Book Company and Wa Na Wari. This event is supported by The Seattle Public Library Foundation and the Gary and Connie Kunis Foundation. Thanks to media sponsor The Seattle Times. This event will be recorded, captioned and then posted on SPL's YouTube channel after the event.

ABOUT THE BOOK:

Six-year-old Ibrahimah loves snatching pastries from his mother's kitchen, harvesting string beans with his father, and searching for sea glass with his sisters. But when he is approached in his rural village one day by Marabout Ahmed, a seemingly kind stranger and highly regarded teacher, the tides of his life turn forever. Ibrahimah is sent to the capital city of Dakar to join his cousin Étienne in studying the Koran under Marabout Ahmed for a year, but instead of the days of learning that Ibrahimah's parents imagine, the young boys, called Talibé, are forced to beg in the streets in order to line their teacher's pockets.

To make it back home, Étienne and Ibrahimah must help each other survive both the dangers posed by their Marabout, and the darker sides of Dakar: threats of black-market organ traders, rival packs of Talibé, and mounting student protest on the streets.

Drawn from real incidents and transporting readers between rural and urban Senegal, No Heaven for Good Boys is a tale of hope, resilience, and the affirming power of love.

Learn more about Keisha Bush's connection with the Talibé, and why she wrote No Heaven for Good Boys on her website.


ABOUT THE SPEAKERS:

Keisha Bush was born and raised in Boston, Massachusetts. She received her MFA in creative writing from The New School, where she was a Riggio Honors Teaching Fellow, and recipient of an NSPE Dean's Scholarship. She has received fellowships from the Lower Manhattan Cultural Council's Workspace Residency, the Tyrone Guthrie Centre in Ireland, Moulin à Nef in France, Virginia Center for the Creative Arts, and Vermont Studio Center. After a career in corporate finance and international development, that brought her to live in Dakar, Senegal, she decided to focus full-time on her writing. Her debut novel, No Heaven For Good Boys, is a New York Times Editors' Choice.

Lisa Lucas is the Senior Vice President & Publisher of Pantheon and Schocken Books at Penguin Random House. Previously, Lucas was the Executive Director of the National Book Foundation for five years. Prior to joining the Foundation, she served as the Publisher of Guernica, a non-profit online magazine focusing on writing that explores the intersection of art and politics with an international and diverse focus. Prior to that, she served as Director of Education at the Tribeca Film Institute, on the development team at Steppenwolf Theatre Company, and as a consultant for the Sundance Institute, San Francisco Film Society, the Scholastic Art & Writing Awards, and ReelWorks Teen Filmmaking. Lucas also serves on the literary council of the Brooklyn Book Festival. Find her on Twitter at @likaluca.

View in Catalog

No Heaven for Good Boys by Keisha Bush

ADA Accommodations

We can provide accommodations for people with disabilities at Library events. Please contact leap@spl.org at least seven days before the event to request accommodations. Captions are available for all recorded Library programs.

Event Information

For registration information and other questions, Ask Us or 206-386-4636.
. . . . . . . . . . . . . . . . . . . . . . . . . . . . . . . . . . . . . . . . . . . . . . . . . . . . . . . . . . . . . . . . . . . . . . . . . . . . . . . . . . . . . . . . . . . . . . . . . . . . . . . . . . . . . . . . . . . . . . . . . . . . . . . . . . . . . . . .