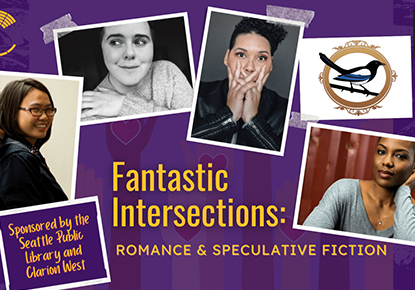 Where

Online

Address

Click here to register on our partner's website. 




Audience

Adults

Language

English

Summary

Ancestors and Anthologies: New Worlds in Chorus. Registration required.

Description

Beyond Afrofuturism: Black Editors and Publishers in Speculative Fiction

Join us for a series of conversations featuring today's Black publishers and editors of anthologies and magazines, aimed at expanding our understanding of the ways in which editorial roles impact the worlds of speculative fiction. Dates: 4/12, 5/16, 5/17

This series is presented in partnership with the Seattle Public Library and is supported by The Seattle Public Library Foundation.

Featuring: Linda D. Addison (Sycorax's Daughters), Maurice Broaddus (POC Destroy Horror & Dark Faith), and Sheree Renée Thomas (Dark Matter)

From the groundbreaking Dark Matter to Sycorax's Daughters to POC Destroy!, anthologies are one way marginalized voices gather in chorus on a particular subject, subgenre, or genre. Our anthologies panel will delve into the world of bespoke collections with luminaries in the field.

Moderated by award-winning author and editor Nisi Shawl (New Suns, Everfair, Stories for Chip: A Tribute to Samuel R. Delany).


About the Panelists:

Linda D. Addison (Sycorax's Daughters)

Linda D. Addison is an award-winning author of five collections, including How To Recognize A Demon Has Become Your Friend, and the first African-American recipient of the HWA Bram Stoker Award®. She is a recipient of the HWA Lifetime Achievement Award, HWA Mentor of the Year, and SFPA Grand Master of Fantastic Poetry. Addison has published over 360 poems, stories and articles; a member of CITH, HWA, SFWA and SFPA. She is a co-editor of Sycorax's Daughters (Cedar Grove Publishing), an anthology of horror fiction/poetry by African-American women. Catch her work in anthologies Black Panther: Tales of Wakanda (Marvel), Chiral Mad 5 (Written Backwards), and Don't Turn Out the Lights (HarperCollins). Visit her website.


Maurice Broaddus (POC Destroy Horror & Dark Faith anthos)

A community organizer and teacher, his work has appeared in magazines like Lightspeed Magazine, Beneath Ceaseless Skies, Asimov's, and Uncanny Magazine, with some of his stories having been collected in The Voices of Martyrs. His books include the urban fantasy trilogy, The Knights of Breton Court, the steampunk works, Buffalo Soldier and Pimp My Airship, and the middle grade detective novel, The Usual Suspects. His project, Sorcerers, is being adapted as a television show for AMC. As an editor, he's worked on Dark Faith, Streets of Shadows, and Apex Magazine. Learn more on his website.


Shawl (New Suns, etc.)

Nisi Shawl is the author of Everfair, Talk Like A Man, and dozens of short stories, many of which can be found in the Tiptree/Otherwise Award-winning collection, Filter House. Nisi is the co-editor of Stories for Chip; Strange Matings: Octavia E. Butler, Feminism, Science Fiction, and African American Voices; and most recently, New Suns: Original Speculative Fiction by People of Color. They are a founding member of the Carl Brandon Society and serves on the board for the Clarion West writing workshop.


Sheree Renée Thomas (Dark Matter anthologies/Magazine of F&SF)

Sheree Renée Thomas is an award-winning fiction writer, poet, and editor. Her work is inspired by myth and folklore, natural science, and the genius of the Mississippi Delta. Nine Bar Blues: Stories from an Ancient Future (Third Man Books 2020) is her debut fiction collection. She is also the author of the hybrid collections, Sleeping Under the Tree of Life (Aqueduct Press 2016), longlisted for the 2016 Otherwise Award and honored with a PW Starred Review and Shotgun Lullabies (2011). She edited the World Fantasy Award-winning groundbreaking anthologies, Dark Matter (2000, 2004) and is the first to introduce W.E.B. Du Bois's science fiction short stories. Her work is widely anthologized and appears in Marvel's Black Panther: Tales of Wakanda edited by Jesse J. Holland (Titan 2021), The New York Times, and The Big Book of Modern Fantasy (1945 – 2010) edited by Ann & Jeff VanderMeer (Vintage 2020). She was honored as a 2020 World Fantasy Award Finalist in the Special Award – Professional category for contributions to the genre and is the Editor of The Magazine of Fantasy & Science Fiction, founded in 1949 and Associate Editor of Obsidian: Literature & Arts in the African Diaspora, founded in 1975, as well as a book reviewer for Asimov's. Sheree lives in Memphis, Tennessee, near a mighty river and a pyramid. Visit her website. 
 

ADA Accommodations

We can provide accommodations for people with disabilities at Library events. Please contact leap@spl.org at least seven days before the event to request accommodations. Captions are available for all recorded Library programs.

Event Information

For registration information and other questions, Ask Us or 206-386-4636.
. . . . . . . . . . . . . . . . . . . . . . . . . . . . . . . . . . . . . . . . . . . . . . . . . . . . . . . . . . . . . . . . . . . . . . . . . . . . . . . . . . . . . . . . . . . . . . . . . . . . . . . . . . . . . . . . . . . . . . . . . . . . . . . . . . . . . . . .