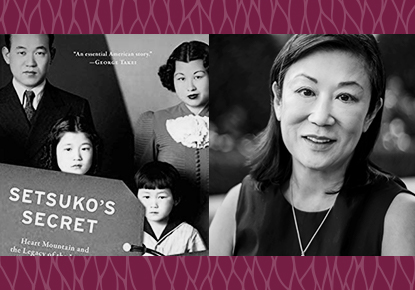 Where

Online

Address

Registration required.. Click here to register.

Audience

Kids & Families, Adults, Adults 50+

Language

English

Summary

Don't miss an engaging book panel discussion on Setsuko's Secret: Heart Mountain and the Legacy of the Japanese American Incarceration.

Description

Author Shirley Ann Higuchi, J.D., chair of the Heart Mountain Wyoming Foundation, uncovers her family's past and embarks on a transformational journey as she learns about the Japanese American incarceration during World War II and what happened to her family and those of other former incarcerees. She will be joined by Darrell Kunitomi and Aura Newlin, who are also descendants of former incarcerees featured in the book. They will discuss the book, the multigenerational effects of trauma and the incarceration's relevance to contemporary issues of racism and identity in America. Tom Ikeda, Founding Executive Director of Densho based in Seattle, Washington will moderate the discussion.

This event is presented in partnership with Densho and the Heart Mountain Wyoming Foundation. Seattle Chapter of the Japanese American Citizens League and Puyallup Valley Chapter of the Japanese American Citizens League are sponsors of the program. This event is supported by The Seattle Public Library Foundation, author series sponsors the Gary and Connie Kunis Foundation, and Seattle City of Literature. Thanks to media sponsor The Seattle Times. Elliott Bay Book Company is selling copies with an author signed book plate.

ABOUT THE BOOK:

As children, Shirley Ann Higuchi and her brothers knew Heart Mountain only as the place their parents met, imagining it as a great Stardust Ballroom in rural Wyoming. As they grew older, they would come to recognize the name as a source of great sadness and shame for their older family members, part of the generation of Japanese Americans forced into the hastily built concentration camp in the aftermath of Executive Order 9066.

Only after a serious cancer diagnosis did Shirley's mother, Setsuko, share her vision for a museum at the site of the former camp, where she had been donating funds and volunteering in secret for many years. After Setsuko's death, Shirley skeptically accepted an invitation to visit the site, a journey that would forever change her life and introduce her to a part of her mother she never knew.

Navigating the complicated terrain of the Japanese American experience, Shirley patched together Setsuko's story and came to understand the forces and generational trauma that shaped her own life. Moving seamlessly between family and communal history, Setsuko's Secret offers a clear window into the "camp life" that was rarely revealed to the children of the incarcerated. This volume powerfully insists that we reckon with the pain in our collective American past.

ABOUT THE SPEAKERS:

Author, Shirley Ann Higuchi, JD, Chair of the Heart Mountain Wyoming Foundation (HMWF), is the daughter of former incarcerees Dr. William I. Higuchi and the late Setsuko Saito Higuchi. Her U.S.-born parents were children when they were incarcerated at Heart Mountain during World War II. Shirley's pursuit of law stemmed from her feelings of discomfort toward how the U.S. judicial system treated her parents. It was not until her mother was on her deathbed in 2005 that Shirley learned of her mother's dream of "having something built" at Heart Mountain. She was elected Chair of the Board in 2009 and her proudest moment was unveiling the Foundation's world-class Interpretive Center in August 2011 with journalist Tom Brokaw, the late Senator Daniel K. Inouye, Secretary Norman Mineta and Senator Alan K. Simpson.

In addition to her work with Heart Mountain, Shirley currently leads the legal advocacy office of the American Psychological Association. Active in the District of Columbia Bar, Shirley served two elected terms on the Board of Governors from 1994 to 2000, served as Chair of the Bar's Nominations Committee in 2001, and was elected President of the Bar for 2003. In 2008, Shirley was appointed to the Judicial Tenure and Disabilities Commission for a six-year term where she was responsible for reviewing misconduct, evaluating reappointments, and conducting fitness reviews of the District's judges. In 2014, Shirley was appointed to the Federal Law Enforcement Nominating Commission by Congresswoman Eleanor Holmes Norton (D-DC). Follow her on Twitter @HiguchiJD.

Aura (Sunada-Matsumura) Newlin is an assistant professor of Anthropology and Sociology at Northwest College in Powell, Wyoming. A fourth-generation Wyomingite and fourth-generation Japanese American, her heritage involves intertwined stories of imprisonment at Heart Mountain, Tule Lake, and Manzanar; racially segregated military service; and hardships suffered by Wyoming railroaders who were fired because of their Japanese ancestry. Prof. Newlin is secretary of the Board of Directors for the Heart Mountain Wyoming Foundation, a board member for the National Consortium on Racial and Ethnic Fairness in the Courts, and a national steering committee member for Tsuru for Solidarity. She actively educates about the contemporary relevance of Japanese American incarceration, and has delivered presentations to legal and lay audiences around the country. She earned a BA in ethnomusicology from the University of Wyoming and an MA in medical anthropology from Case Western Reserve University, where she specialized in global health and infectious disease control. Now focusing on the anthropology of law, she is a PhD candidate at Case Western Reserve University. As a teacher, she is dedicated to instilling in her students a heightened capacity for compassion and empathy toward those who are different from them.

Darrell Kunitomi has worked for the Los Angeles Times for 40 years in the communications department, giving speaking engagements on behalf of the newspaper and giving tours around the newspaper's offices to individuals and groups. Over that time, he has become the company's historian. He has also written articles on the outdoors for the Times. Darrell is a member of the Grateful Crane Theater Ensemble, an organization that creates performances around Japanese and Japanese American stories. He is a member of two of the most notable families of the incarceration. His father Jack was the sports editor of the Heart Mountain Sentinel and a member of the Military Intelligence Service. His aunt Sue Kunitomi Embrey was a leader of the Manzanar pilgrimages and the Manzanar Committee. His uncle Ted Fujioka was the first student body president of Heart Mountain High School; Ted died in France while serving as a member of the 442nd Regimental Combat Team. Darrell's older brother Dale was born in the Heart Mountain hospital.

Tom Ikeda, the founding Executive Director of Densho, is a sansei (third generation Japanese American) who was born and raised in Seattle. Tom's parents and grandparents were incarcerated during World War II at Minidoka, Idaho. Prior to working at Densho, Tom was a General Manager at Microsoft Corporation in the Multimedia Publishing Group, and previously worked as a research engineer and as a financial analyst. He has received numerous awards for his historical contributions, including the Humanities Washington Award for outstanding achievement in the public humanities, the National JACL Japanese American of the Biennium award for Education, and the Microsoft Alumni Fellows Award.

ADA Accommodations

We can provide accommodations for people with disabilities at Library events. Please contact leap@spl.org at least seven days before the event to request accommodations.

Event Information

Ask Us
. . . . . . . . . . . . . . . . . . . . . . . . . . . . . . . . . . . . . . . . . . . . . . . . . . . . . . . . . . . . . . . . . . . . . . . . . . . . . . . . . . . . . . . . . . . . . . . . . . . . . . . . . . . . . . . . . . . . . . . . . . . . . . . . . . . . . . . .