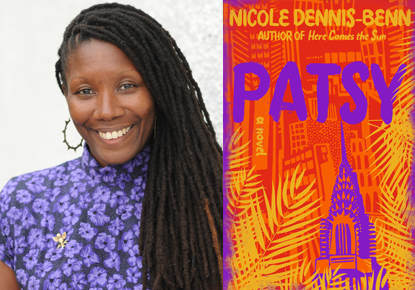 Where

Central Library

Room Location

Level 1 - Microsoft Auditorium

Audience

Adults

Language

English

Summary

Lambda Award-winning author Nicole Dennis-Benn will read from and discuss her new novel "Patsy."

View in Catalog

"Patsy" by Nicole Dennis-Benn

Description

From the critically acclaimed and award winning novelist Nicole Dennis-Benn comes a stirring portrait of motherhood, immigration, and the sacrifices we make in the name of love. When Patsy gets her long-coveted visa to America, it comes after years of yearning to leave Pennyfield, a beautiful but impoverished Jamaican town where there are few opportunities for economic advancement. More than anything, Patsy wishes to be reunited with her oldest friend, Cicely, whose letters arrive from New York full of the promise of a happier life and a possible rekindling of their young love. As hard as it is for her to admit, Patsy's plans don't include her overzealous, evangelical mother – or even her five-year-old daughter, Tru, who she is leaving behind in Jamiaca. Beating with the feverish pulse of a long-held confession, Patsy gives voice to a woman who looks to America not to give a better life to her family back home, but instead for the opportunity to choose herself first. Patsy leaves Tru with a mixture of guilt and relief but in a defiant act of self-preservation, hoping for a new start where she can be, and love whomever she wants. But when Patsy arrives in Brooklyn, she discovers with disappointment that America is not as Cicely's treasured letters described and, to survive as an undocumented immigrant, she is forced to work a series of unexpected jobs such as bathroom attendant and nanny. Meanwhile, Tru works to build a relationship with her father back in Jamaica, as she grapples with her own questions of identity and sexuality, and tries desperately to understand her mother's abandonment. Expertly evoking the rhythms of Jamaica and the bustling streets of New York, Patsy weaves between the lives of Patsy and Tru in vignettes spanning more than a decade as mother and daughter ultimately find a way back to one another. As with her masterful debut Here Comes the Sun, Nicole Dennis-Benn once again charts the geography of a hidden world — that of a paradise lost, swirling with the echoes of lilting Patois, in which one woman fights to discover her sense of self in a world that tries to define her. Passionate, moving, and fiercely urgent, Patsy is a haunting depiction of immigration and womanhood, and the lasting threads of love stretching across years and oceans.



This event is supported by The Seattle Public Library Foundation, author series sponsor Gary Kunis, and media sponsor The Seattle Times, and presented in partnership with Elliott Bay Book Company. Books will be available for purchase at the event.



Praise for the book:

◂ "Nicole Dennis-Benn is an exquisite writer who paints scenes with words so vivid you might as well be walking through it as a character, not a reader. In Patsy, she addresses motherhood, sexuality, racism, and colorism; turning her prodigious talents to the timely story of an undocumented immigrant straddling two worlds while learning that love isn't a choice, but the beat in one's blood." - JODI PICOULT, New York Times bestselling author of A Spark of Light and Small Great Things



◂ "A stunningly powerful inter-generational novel about the price―the ransom really― women must pay to choose themselves, their lives, their value, their humanity. Frank, funny, salty, heartbreaking, full of love, Dennis-Benn is a map-maker to those places in the heart held so closely, the holder may not know even they're there." - ALEXANDER CHEE, author of How to Write an Autobiographical Novel



◂ "Beautiful, shattering, and deeply affecting. Patsy's story ultimately makes for a novel that is destined to endure." - CHIGOZIE OBIOMA, author of The Fishermen



◂ "An aching meditation on motherhood, sacrifice, and what it means to look truth in the face in order to fully become oneself. A beautiful book, as heartbreaking as it is restorative." - CRISTINA HENRIQUEZ, author of  The Book of Unknown Americans



◂ "A novel that splits at the seams with yearning, elegantly written and deeply felt. Dennis-Benn leads the reader through Patsy's life with empathy and grace." - ESME WEIJUN WANG, author of The Collected Schizophrenias

Notes

Library events and programs are free and everyone is welcome. Registration is not required.

Podcast

This event will be recorded for podcast.

Contact Info

*Central Library

Have a question?

Ask Us

Contact Phone

206-386-4636

Room Capacity

Space is limited at library events. Please come early to make sure you get a seat. Due to the fire code, we can't exceed the maximum capacity for our rooms.
. . . . . . . . . . . . . . . . . . . . . . . . . . . . . . . . . . . . . . . . . . . . . . . . . . . . . . . . . . . . . . . . . . . . . . . . . . . . . . . . . . . . . . . . . . . . . . . . . . . . . . . . . . . . . . . . . . . . . . . . . . . . . . . . . . . . . . . .